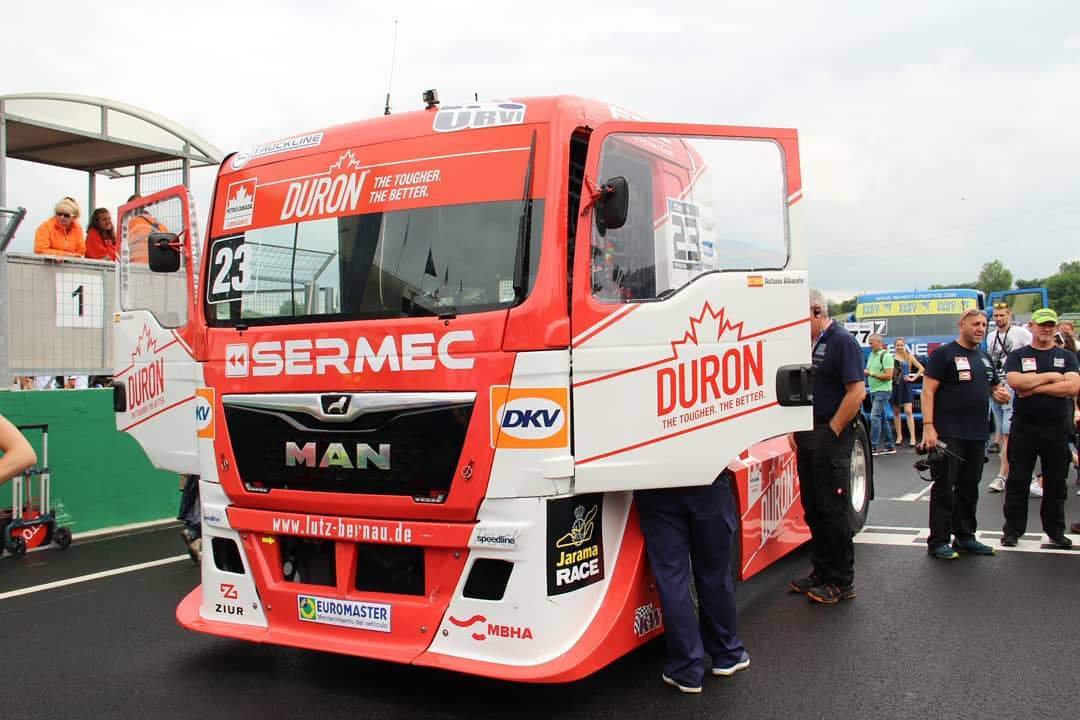 MBHA and ZIUR Composite Solutions put their composite products to the test once again this season for the Truck Sport Lutz Bernau team.
The Engineering departments of MBHA and ZIUR and the Truck Sport Lutz Bernau truck racing team have worked together to design a series of composite elements for chassis and suspension that allow reducing the final weight of the vehicle, thus achieving an important advantage in this type of races.
Thus, the MBHA group has the opportunity to collaborate, for the fourth consecutive season, with the German team and test, in the FIA European Truck Championship that is currently being disputed, its latest advances in the design and development of this type of composite products. One of the team's MANs, driven by the Madrid driver Antonio Albacete, is the vehicle chosen to mount the products that will withstand extreme loads during the races.
Antonio Albacete's MAN is equipped with hybrid rear springs with two leaf springs, one made of composite and the other of steel, front springs with a full composite leaf and a full composite stabilizer bar. The combination of composite materials, mainly from glass and carbon fiber and other thermosetting polymers, reduces the final weight of the vehicle, thus increasing its performance and safety at the same time.
In addition, another of the particularities of composites is that they are more durable than steel and, by giving early warning of wear, they offer the possibility that the leaf spring will never break suddenly, maintaining its ergonomics until the truck enters the workshop.
MBHA and ZIUR are pioneers in the design and manufacture of this type of suspension elements, so having the opportunity to test them in this type of maximum competition tests, allows the company to improve and develop new products for the transport sector.